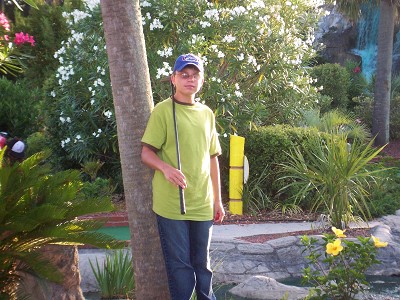 Alex Tyler Harp
September 5, 1993 – August 14, 2007
IT is the time of the year that we have been most dreading. What most people call "The one year anniversary of his death". We like to call it, his first Spiritual Birthday in Heaven. We are trying to be strong, but at times we find it hard and difficult to find the strength to be strong. We have to constantly remind ourselves of God's love and because of the love that He has for us, He promises to protect and to comfort us. I still hear a lot of people asking the question "why does God take such good people?" I used to ask that question too. When Alex died, we were told by many pastors that it is okay to ask why. Over this past year, God has told us many reasons why and it started just a few days after Alex passed away. He told us that our children are only on loan to us, it is our job to raise them to serve Him. On August 14, 2007 God was ready to take Alex back. At that time we had so much guilt because we as his parents could do nothing to bring him back. After a few days of his passing God told us it was his time. We accepted that and have relied on God since then to carry us thru our darkest days, and there have been many. Most everyone knows of the changes and the events that have taken place since then. If not, then you can visit our website at www.whywaiteministries.com. In the book of Isaiah, God tells Isaiah "why". We are to go to God for guidance and answers. This passage is His answer to our "why". Isaiah 57:1 "Good people pass away; the godly often die before their time. But no one seems to care or wonder why. No one seems to understand that God is protecting them from the evil to come." If we could write a letter to Alex this is what it would say:
Dear Alex,
We miss you so much, baby. Life will never be the same without you here. We miss our vacations with you, we miss our trips to Wild Adventures, we miss our camping trips, but most of all we miss your laughter, jokes, and smiles. We miss seeing you try to walk past us trying to sneak food to your room and getting caught. We miss you sitting between us in church and us constantly nudging you to keep you awake. We know you must have been faking, because you always laughed. We miss hearing you sing. You brought so much joy to this family and sometimes it is almost unbearable to get thru the days. Thank God, we have the bible, God's instruction book that promises we will be together again. And it will be sooner than a lot of people think. So, we are keeping your legacy alive and spreading God's word. Hopefully, we can help lead others to come to know that thru Jesus is the only way to Heaven. Alex, thank you for who you were and for the legacy that you left. Without your legacy, we don't know what we would have done. You will always live within our hearts. We have dreamed of you often, but it is just not the same. There is and will always be a piece of our heart missing. We know that you are just having a ball; after all you are in Heaven, now. No more worries, no pain. Just serving the Lord, we're sure. After all II Corinthians 5:6-8 says "For the believer, death does not separate him from God; it is a transition into His presence." We love you more than any words can say. We will continue to shed our tears as we progress thru the grief stricken days that lie ahead. But, we are constantly reminded thru His word, that we will be together again. Until then our sweet precious angel.
Love you always and forever,
Dad, Mom and Chris
Remembering our Alex on his 2nd Anniversary of going Home!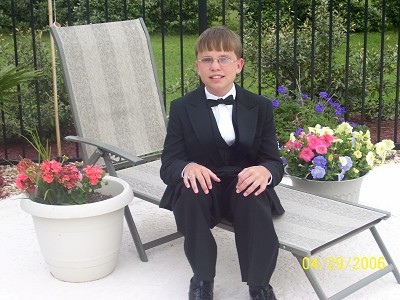 Alex Tyler Harp: September 5, 1993 - August 14, 2007
It has been two years now, since Alex has gone home to be with the Lord. The days do not get any easier for our family. We miss him so much, but as each day goes by, that is one day closer to when we will be with Alex again. And we will never be separated from him, again. The Lord has promised us that those who allow Christ to live within them will one day be reunited with their loved ones who have gone on before them and will never be separated again.
My letter to Alex:
Dear Alex,
It has been two years since you left us to go and be with the Lord. I miss you so much. There is not a day that goes by that I don't think of you. You are the first of my thoughts when I wake up in the mornings and the last of my thoughts before I go to bed. And I could not count the times that I think of you during the day. I listen to the songs that you recorded, every time I'm in the truck riding down the road. I miss the vacations when we would ride the jet ski's and you would tell me to slow down or don't jump that wave. But you knew dad, we had to jump the waves and see how fast the jet ski would go. I miss the days that we would ride the boogie boards in the ocean and see who could catch the biggest wave. I miss seeing you in the pool. I miss you calling me at work to see if we could go to Wal-mart when I got off work so you could get a video game. You would tell me that you would buy the game with your money, but then when we got to the check-out you would put your head on my shoulder and say, "please buy this for me" and you knew I would. I really miss seeing you sing at church and watching you talk to other kids about the Lord. Mom and I have kept your dream alive with whywaiteministries.com. We speak to other churches, youth groups, ladies and men groups and tell your stories and ask people Why Waite to be saved.
I ask the Lord every night to give you a hug and a kiss for me. I can't wait for the day the Lord comes and takes me home, so that I can see you and hold you and to never to be separated from you, again. You are my precious angel and my hero.
I love you so much,
Always and forever,
Dad